Hotel Dialog
Address

: Dialoggatan 1, 141 75 Kungens Kurva
show map
Location: Skärholmen
Hotel | Hotel Dialog is an affordable family hotel located at Kungens Kurva. With its proximity to the city of Stockholm, as well as Stockholmsmässan makes this an ideal hotel for both the business and pleasure. The hotel offers free parking and breakfast.
Hotel Dialog offers modern and fresh rooms at affordable prices. For guests' security, the front desk is manned around the clock and you have free access to tea and coffee whenever you want.

Opposite the hotel is one of Sweden's largest entertainment center, with Scandinavia's largest cinema, bowling, entertainment and restaurants.

There are 87 rooms. Each room has a TV with DVD and pay-TV, WiFi and a shower and toilet.

Breakfast and internet are included in the price. A kiosk is available at the front desk, where you also can borrow a hairdryer and iron.

Pets are welcome in selected rooms. Please contact the booking organization before you make a booking with pets.

Do you arrive by car?
The hotel has free parking.
Facilities and services
General facilities

Number of floors: 2

89 room(s)

Luggage storage

Elevator

Front desk

Laundry service

Adapted for the disabled

Parking

Guest kitchen

Internet

24h check-in

Eat & Drink on site

Special requirements
Compare "Hotel Dialog" with similar alternatives
A comfortable hostel in a beautiful, quiet environment still close to the city. A small family owned hostel where every guest is important.
Eco-friendly Scandic Södertälje is located just south of Södertälje center and only 29 km from Stockholm. nearby you´ll find a wide range of attractions, such as Tom Tits Science Center and Sydpoolen Adventure and family spa.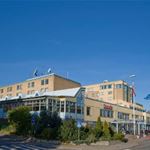 Eco-friendly Scandic Skogshöjd is situated in central Södertälje. The location, between Stockholm and Södermanland, provides acces to various attractions. Stockholm city with its pulse, or the countryside with its small villages and magnificent castles.